Location
---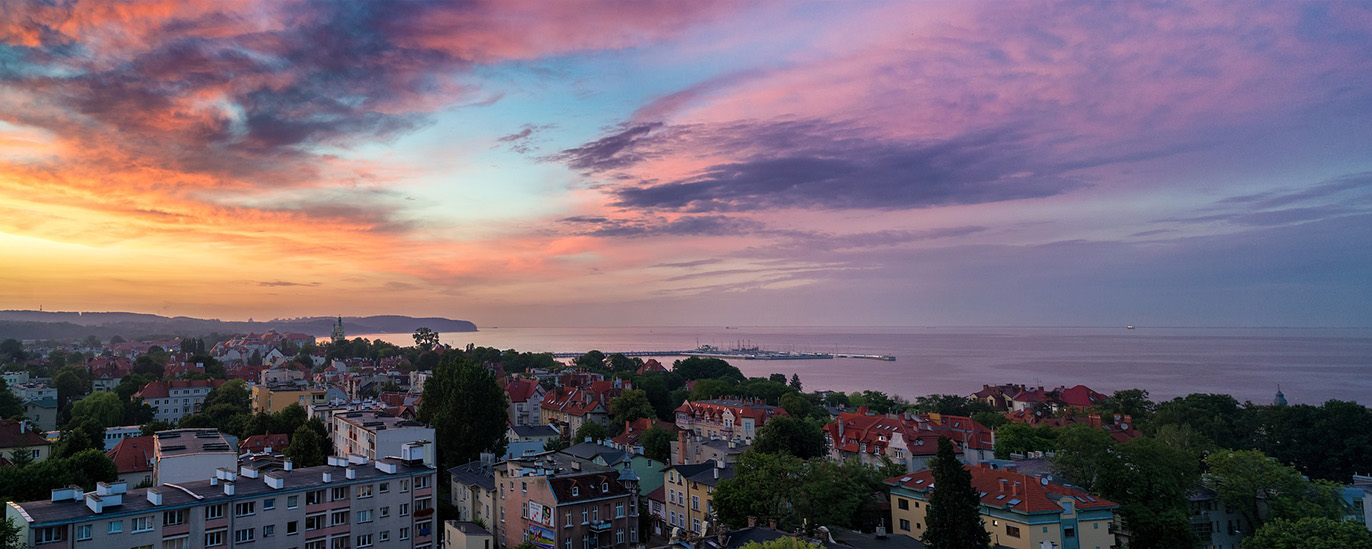 The Riviera of the North,
the Pearl of the Baltic,
or the most beautiful Sopot!
It is here that the Innovative Academy of Aesthetic Dermatology iADE is organized every year. The unique health resort, famous among other things for the longest wooden pier in Europe, delights tourists with its wide, sandy beaches. Sopot is one of the greenest cities in Poland with clean air, whose spa traditions are exactly 200 years old. The seaside climate of Sopot is known for its high content of iodine and essential oils from coniferous forests. The spa character of the place is also due to the brine from the spring of St. Adalbert, with a salt content similar to the Dead Sea. No wonder that the aristocracy and the wealthy bourgeoisie have been going to the waters in Sopot since the 19th century to improve their health and at the same time indulge in numerous entertainments. The same is true today, because Sopot is full of attractions. Opera Leśna (The Forest Opera), three theater stages, museums and art galleries, and even the Polish Chamber Philharmonic operate here. Sopot's sports attractions include a hippodrome, a stadium, numerous bicycle and walking routes, and almost 30 tennis courts.
Sopot, part of the Tricity
Historic Gdańsk and modern Gdynia together with Sopot form the Tricity agglomeration. The vibrant Tricity is considered one of the best places to live in Poland. It is famous for its history of struggles for independence. The famous European Solidarity Center is located in Gdańsk, showing the Polish road to freedom and the overthrow of the communist system in Poland in the 20th century. On the occasion of a visit to IADE, you can visit many tourist attractions of the Tricity, such as the Long Market, Neptune's Fountain, the Gdańsk Crane or the Gdynia cliff, with which offers a breathtaking view of the Bay of Gdańsk.
Radisson Blu Hotel Sopot
IADE 2023 guests in the stylish interiors of the Radisson Blu hotel, located in Sopot Błonia. The hotel is famous for its modern wellness area, saunarium and the largest hotel swimming pool in the Tri-City. It is surrounded by recreational areas, where it is easy to take a break and relax.
At the same time, Radisson Blu is located close to the biggest attractions of Sopot and well connected.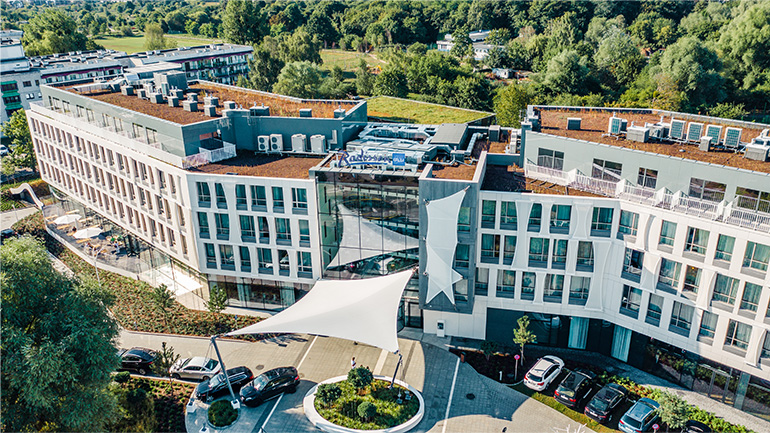 The luxurious apartments refer to the aesthetics of art deco and modern chic. The largest conference center in the Tricity, located in this facility, is as much as 2,000 square meters, including the Grand Pavillon with a concert hall sound stage. The adjacent outdoor space allows you to freely go out to the gardens and organize outdoor activities.